FARMHOUSE HISTORY:
Johnson Estate's red brick farmhouse was built in 1822 by William Peacock, a land surveyor and employee of the Holland Land Company. He died owning a very large portfolio of parcels of land. While William Peacock lived in Mayville, the house in Westfield, optimally sited for excellent fruit production, was occupied by his brother and eventually William's niece, Margaret Peacock. She lived in the farmhouse until she died in 1890. Here's a lithograph of the house circa 1868. The house and farm were purchased by Frederick William Johnson in about 1910-11.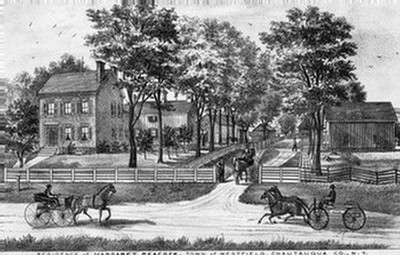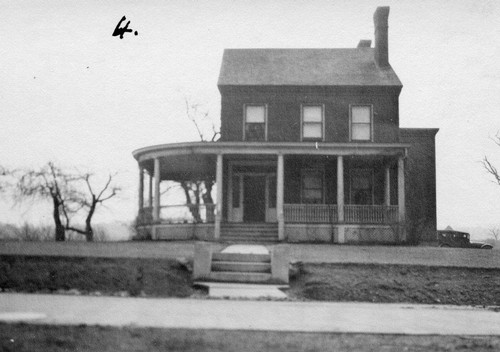 CENTURY FARM -
THREE GENERATIONS, THREE BUILDINGS, AND THREE KINDS OF GRAPES:
The history of Johnson Estate Winery is a story of threes. (See photos here)

In the late 1800s, an English orphan named Frederick William Johnson immigrated to Western Canada from England as a teenager and then found his way to Cornell University to study entomology (deemed Class of 1901) and later worked for the Department of Agriculture. In 1910-11, Johnson purchased the house and farm in Westfield which he named Sunnyslope Farm and grew peaches, pears, apples, and cherries. He also grew Concord and Niagara grapes. In 1920, he built an apple cold-storage facility that now houses the winery's tasting room.
Second-generation family member, Frederick Spencer Johnson (1921-1998), grew up on the farm and served in World War II as a naval aviator, graduated from Cornell University in 1946, and then raised his family overseas while working for the Rockefellers' agricultural endeavors in Latin America. He returned to the farm in 1960 after his father died, removed aging fruit orchards, and planted the first wine grapes (Chancellor, Seyval Blanc, Chambourcin, Vidal Blanc, and Maréchal Foch) in the region. Frederick opened the winery in 1961 in his father's apple cold storage building - and it is New York State's oldest estate winery. He later added a new tank building in the 1980's.
Upon the death of Fred Sr. in 1998, the third generation of Johnsons, Frederick Jr., Elizabeth and Anthony, all Cornell graduates, inherited the farm and began to oversee the winery operations, the planting of new Riesling vineyards, and the construction of a new finished goods warehouse. In 2011, Frederick Johnson Jr. purchased his siblings' interests and became, with his wife Jennifer, owner of the farm and winery. They completed a renovation of the tasting room in 2011, just in time for the celebration of the operation's 50th anniversary. Johnson Estate Winery was awarded a Century Farm designation from the New York State Agricultural Society in 2018. Today the Estate grows two additional vitus vinifera grapes: Pinot Noir and Chardonnay.

FARMHOUSE GARDENS:
Daisy Lane: The farm road to the barn, lined with daisies.
Woodland Garden: Immediately to the east of the winery is the woodland garden. It was likely part of the lane around the farmhouse, lined with locust trees; one old trunk still remains. Jennifer has lined the paths with sweet woodruff - inspired by Winemaker Jeff Murphy's creation of May Wine. Learn more...
Apple Trees: The apple trees in the farmhouse garden date back to the early 1960's. Fred Sr. grafted several kinds of apples onto the central tree and they now produce McIntosh, Northern Spy, and Rome apples. They are pruned "low" for two reasons - one to make it easier to pick the apples and two, this "winter haircut" preserves the view!
Herb Garden: Inspired by her love of formal gardens, Jennifer began working on this garden about fifteen years ago. Its claim to fame is the purple-colored iris (pictured below) which bloom at the end of May/early June and lavender which blooms in July.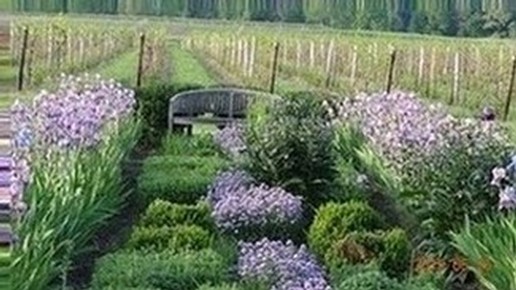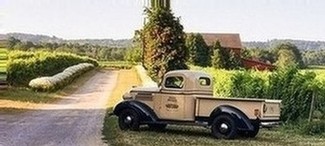 VINEYARDS:
Thirteen varieties of grapes are grown on 115 acres of grapes on the 300-acre farm.
Seyval Blanc and Traminette are grown adjacent to the farmhouse gardens. Learn more about the winery's estate-grown grapes....

Try a "Three Generation Flight" of Wines!
3rd Generation: Chardonnay, Pinot Noir, or Riesling
2nd Generation: Founders' Red, Seyval Blanc, Chambourcin, Maréchal Foch, or Vidal Blanc
1st Generation: Concord, Ives, Niagara, or Catawba