December 15, 2019 | Jennifer Johnson
A December Dinner in the Tasting Room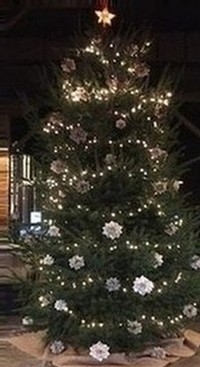 Every year, the Patterson Library hosts an August auction - and this year loyal supporters of the Library purchased a dinner hosted by Johnson Estate Winery
(actually, there were two dinners, but that is another story).
We are sharing photographs and Chef Edward Work's menu for the dinner held on December 13th in the tasting room when it was all decorated for Christmas. Chef Ed is the head chef at the Athenaeum Hotel, but off-season, is able to share his talents with us and others. The meal was delicious and perhaps offers readers some food and wine pairing ideas!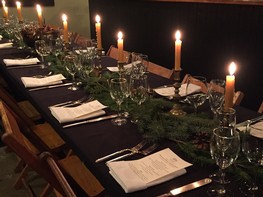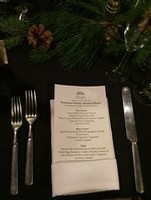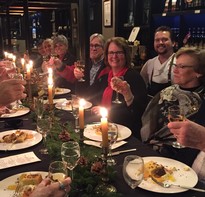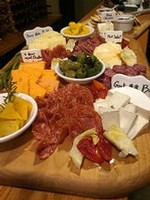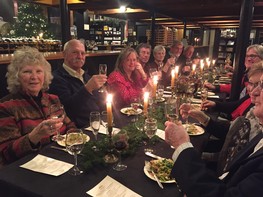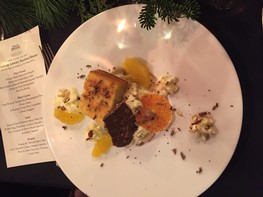 * * *
Appetizers
Artisan Cheese and Charcuterie Board with Assorted Pickles, Olives & Jams
Bacon-Wrapped Dates Stuffed with Blue Cheese

First Course
House-Made Fettucinne with Butternut Squash Cream Sauce &
Wilted Greens, Roasted Butternut Squash & Pumpkin Seeds
Semi-Dry Riesling
Main Course
Red Wine & Herbed Beef Bourguignon, Parsnip Potato Purée,
garnished with Crispy Root Vegetables
Cabernet Sauvignon
Salad
Shaved Kale & Brussel Sprouts with Hard Boiled Egg, Hazelnuts, Craisins, Pecorino Cheese,
Rye Croutons & Sherry-Bacon Jam Vinaigrette
Sparkling Traminette
Dessert
Orange & Almond Cake with Chantelle Cream,
Orange Supreme, Almond Bark & Dark Chocolate Shavings
Cream Sherry