Reservations are now closed for this event.
---
The Centennial Dinner Celebrates Two Special Events
1. One hundred years ago, on the "eleventh hour, of the eleventh day of the eleventh month of 1918", after four years of Europe's bloodiest war, Ferdinand Foch, Commander in Chief of the Allied Forces, accepted Germany's request for an armistice. We now celebrate this day as Armistice or Veteran's Day.

2. Early in 2018, Johnson Estate received a Century Farm Designation from the NY Agricultural Society for its three-generation, 110 years as a family farm.

We hope that you can join us for this special multi-course dinner celebration featuring French cuisine - in honor of the French leader - and our popular Maréchal Foch* and other red wines.
---
*Special Maréchal Foch Wine for Armistice Day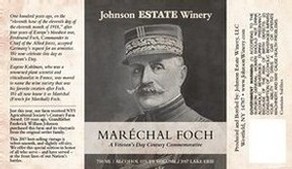 The winery will be releasing a special label of its popular Maréchal Foch wine as a centennial celebration of the Armistice/Veteran's Day and to recognize Johnson Estate's Century Farm designation. We offer this special Veteran's Day commemorative vintage in honor of all who serve and have served at the front lines of our nation's battles; from Bunker Hill to this day. Beginning on Veteran's Day, November 11th and throughout the month of November, veterans and those currently serving in the military may enjoy free tastings in the winery.
---
The Maréchal Foch Grape
Dr. Eugene Kuhlman (1858-1932), who was a renowned French plant scientist and viticulturalist, named his favorite grape variety creation after Ferdinand Foch (or Maréchal - French for Marshall – Foch) to show his gratitude for the ending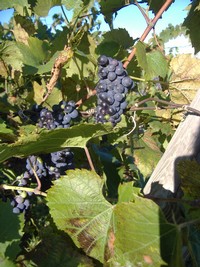 of World War I. Foch was a short, energetic, very accomplished man, so perhaps it is not altogether a coincidence that this name-sake grape variety is early ripening, small and very rich. Kuhlman developed this variety in Alsace in the late 1800's; it was introduced to America in 1921. While the natural plant-breeding crosses details were lost with his death, it is fairly certain that "Maréchal Foch" is the result of a cross between Riesling and Oberlin Noir, which in turn is a cross between Gamay and a wild American grape parent. From the Gamay comes the Beaujolais flavor, from the Riesling the light aromas, and from the wild American parent, vigor and disease resistance. Dr. Kuhlman may have felt that this particular grape, which had helped to liberate France and his home in Alsace from the scourge of Phylloxera in 19th century, should be named after General Foch who, with American help, liberated France and Alsace from German armies at the dawn of the 20th.