JE: Maple Weekends (Cancelled)
| | |
| --- | --- |
| Date: | Sat, Mar 28, 2020 - Sun, Mar 29, 2020 |
| Time | 12:00 PM to 4:00 PM |
| Venue: | Tasting Room, Johnson Estate Winery |
| Contact: | Mary Williams |
| Phone: | 716-326-2191 |
| Email: | retail@johnsonwinery.com |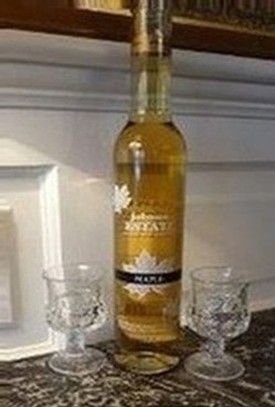 We are sorry. Out of caution due to the Corona Virus, we have cancelled
Maple Weekends at Johnson Estate Winery
March 21-22 & March 28-29, Noon-4pm

March is maple sugar time in western New York - when early spring temperatures mean that the maple tapping season has begun. In 2015, Johnson Estate celebrated the maple season with the release of a new maple-infused liqueur, now available year-round for tasting and purchase.

During NYS Maple Association's annual Maple Weekends, sugar shacks feature pancakes and maple syrup. At Johnson Estate, the winery features its unique Maple Liqueur with French Crêpes, Julia Child-style, with fancy ground toasted nuts for $5/person. No reservations needed unless your group is larger than six people.

Here's that crêpe recipe for your own winter, après-ski party!

More About Johnson Estate's Maple Liqueur ($15/bottle):
Winemaker, Jeff Murphy, Johnson Estate's winemaker, uses 100% local Red's Best maple syrup to flavor a fortified liqueur made from estate-grown Vidal Blanc grapes, inspired because he loves maple syrup – a natural product with a wonderful flavor. As Jeff points out, "maple syrup is America's own unique natural sweetener and it was first made by indigenous Americans".
The winery's new liqueur tastes like a combination of sherry and ice wine – fortified and sweet – but with a dry finish due to its 20% alcohol content. The light infusion of maple syrup provides a warming, not-too-sweet maple sensation. The resulting drink is excellent as an aperitif - perhaps served with salted pecans. It may be served "après-ski" or other cold activities as snow--shoeing or shoveling! The Maple Liqueur is also a nic accompaniment for cookies, cakes, or crème brulée.