March 25, 2022 |
Jennifer Johnson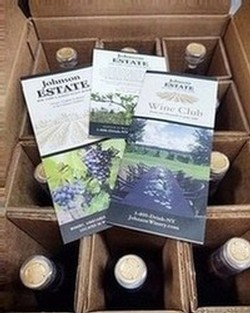 FREE & DISCOUNTED SHIPPING PROGRAMS:
These programs refer to ground shipment only. Please also know that orders placed on the weekend are shipped out on the following Monday. Questions? shipwine@johnsonwinery.com.
Here are the PROMOTION CODES:
OH, PA, & NY:
FREE shipping on multiples of SIX 750mL or 375mL bottles; does not apply to 1.5L bottles.
GOODNEIGHBOR6 ♦ GOODNEIGHBOR12 ♦ GOODNEIGHBOR18
GOODNEIGHBOR24 ♦ GOODNEIGHBOR36

EAST of the Mississippi:
FREE shipping on multiples of twelve 750 or 375mL bottles.
EOM12 ♦ EOM24 ♦ EOM36

WEST of the Mississippi:
50% OFF shipping on multiples of twelve 750 or 375mL bottles.
50SHIPWEST12 ♦ 50SHIPWEST24 ♦ 50SHIPWEST36
WE CAN SHIP WINES TO:
Alaska*, Arizona, California, Colorado, Connecticut, District of Columbia, Florida, Georgia, Hawaii*, Illinois, Louisiana, Massachusetts, Michigan, Minnesota, Missouri, Nevada, New Hampshire, New York, North Carolina, Ohio, Oregon, Pennsylvania, South Carolina, Tennessee, Texas, Virginia, Washington, Wisconsin, & Wyoming.

*Discounted shipping programs do not apply to Alaska & Hawaii.
If your state is not listed above, we are still able to ship non-alcoholic orders. Please take a look at our fine food products.
ORDER ONLINE OR CALL:
1-800-Drink-NY or 1-800-374-6569, 10AM - 5:30PM daily. Our tasting room team will be happy to speak with you. Please do share our shipping offers with your friends and family!

AND NOW, THE FINE PRINT:
Bottles must be 750mL or 375mL for free/discounted shipping programs.
Requires signature of someone over 21 years old.
We can ship to your home or work address.
Due to covid's impact on the shipping industry, transit times can vary from two days to seven days. For West Coast & Florida, we generally ship wines on Monday to attempt to avoid weekend delays.