December 1, 2017 |
Jennifer Johnson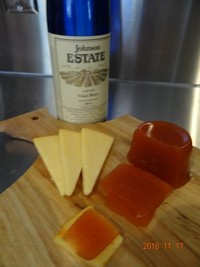 What is Quince Paste?
Quince trees (Cydonia oblonga), of the apple or "pome" family, are native to the Caucasus mountains of Georgia, Armenia, and northern Iran/Persia. The hard, sometimes fuzzy, fruit is apple or pear-shaped and the green skin becomes bright yellow when ripe. Its whitish-yellow flesh turns a beautiful ruby color when cooked. Quince fruit is high in pectin and has a unique sweet-tart, floral flavor which is perfect in preserves, jams or jellies, and quince paste. Known as "dulce de membrillo" in Spain, quince paste is a thick, sliceable jam, often served with Manchego cheese.
The Story of Quince at Johnson Estate:
Fred William Johnson was an orphan from England who immigrated to Saskatchewan at the age of 14 and worked as a cowboy until making his way to Cornell in the late 1800's. He bought the farm in 1908, planting orchards of cherries, peaches, apples, and pears. He grew quince for his own consumption and both Fred Sr. and Fred Jr., founder and current owner of Johnson Estate respectively, grew up eating poached quince. Although quince trees were popular in England and the colonies, quince orchards are now somewhat rare in the United States. Fred and Jennifer Johnson have planted three varieties: Van Deman, Orange, and Aromatnaya, providing quince not only for Fred's dessert with cream, but sufficient quantities for Jennifer to make quince paste to pair with cheese and wines and to sell in the winery.
How to Serve Quince Paste:
With a small knife, gently pry the quince paste out of the glass jar and onto a plate or cheese board. It will hold its shape and may be cut into slices to accompany cheese or charcuterie. In Spain, quince paste is traditionally served with Manchego, a salty sheep's milk cheese, but the paste is delicious paired with a large variety of hard and soft cheeses.
SOLO:
Serve as dessert with cookies or crackers; pair with Johnson Estate Vidal Blanc.
CHEESE PAIRINGS:
Gitane, Tom or Palimino from Reverie Creamery, Mayville, NY (Riko Chandra, Owner)
Various sharp cheddar cheeses (Yancey Fancy & Cabot brands available in the winery)
Parmesan and other hard cheeses; goat and soft cheeses